CR Industrial Machine Works Ltd
1311 Spruce St
Ph 250-286-1175  Fx 250-337-8951
<![if !supportEmptyParas]> <![endif]>
This machine is now offered individually with accessories and tooling, or as part of a complete package @ <![if !vml]>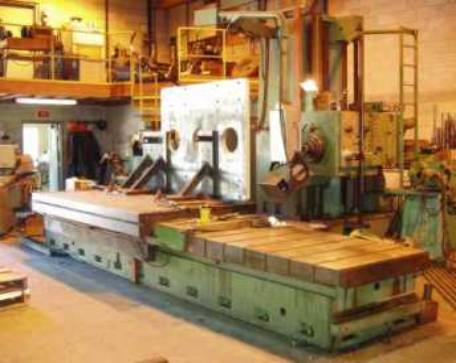 <![endif]>crindustrialmachine.com/forsale.htm
Planner Style Horizontal Boring and Milling Machine
<![if !supportEmptyParas]> <![endif]>
Make: Collet & Engelhardt (West German)
Type:   BFc 125 nu
Serial:  D. 11 630
<![if !supportEmptyParas]> <![endif]>
<![if !supportEmptyParas]> <![endif]>
Equipped with
<![if !supportEmptyParas]> <![endif]>
  3 Axis Digital Readout (Mill Vision)
  Pendant Control of all functions 
  Power Draw Bar for tool clamping
  Electro Hydraulic clamping
  Fully Automatic Way Lubrication
  Ball Screws on all Axis drives
  Spindle Threading
<![if !supportEmptyParas]> <![endif]>
<![if !vml]><![endif]><![if !vml]><![endif]>
<![if !supportEmptyParas]> <![endif]>
<![if !vml]><![endif]>
Specifications
Spindle Diameter: -------------------------------- 125 mm (4.9")
X – Travel: ----------------------------------------- 2500 mm  (8.2') Table Cross
Y – Travel: ----------------------------------------- 1500 mm (5') Head Vertical
Z – Travel: ----------------------------------------- 1500 mm (5') Column Stroke
Table Surface Area: ----------------------------- 1500 mm x 3000 mm (5' x 10')
Table Load: ---------------------------------------- Accuracy to 15 Tons
Spindle Taper: ------------------------------------ ISA 50
Spindle Speeds: ---------------------------------- 4 range's DC Variable 0 – 1250 RPM
Spindle Power: ------------------------------------ 20 Hp DC Variable Drive
Spindle Feeds & Threading Pitches: -------- .021 mm – 10 mm per Revolution (34 steps)
Milling Feeds: -------------------------------------- .021 mm – 10 mm per Revolution (34 steps)
Rapid Traverse all axis: ------------------------- 2800 mm per min (9' / min)
Fine positioning Traverse all axis: ------------ 100 mm per min (4" / min)
Creep Positioning Traverse all axis: ---------- 3 mm per min (.12" / min)
Power Requirements: ----------------------------- 30 KW  440V / 60 cycle
Overall Weight (est): ------------------------------------- 32 Tons
Overall Dimensions: ------------------------------- 4 x 5.5 x 6.7 m (13'h x 18'w x 22'l)
<![if !supportEmptyParas]> <![endif]>
Planner Style Horizontal Boring and Milling Machine
<![if !supportEmptyParas]> <![endif]>
Digital Readout: Acu-Rite Millvision 3 axis active with the 4th spindle axis connectable.  Readout offers Program Mode with Absolute Presetting, Incremental Presetting and Reference Presetting.  Inch/MM, Angle Measurement and Hole pattern layout including nested patterns.
<![if !supportEmptyParas]> <![endif]>
Pendant Control: 4 axis control including auto or manual position clamping.  Amperage and RPM Meters with variable spindle speed control. 
<![if !supportEmptyParas]> <![endif]>
Headstock:  4 Speed Ranges (4.5 - 80, 16 -280, 20 -355, 71 -  900/1250 Rpm's) DC variable within the ranges (machine is currently setup for 900 Rpm max but the DC drive can be modified to provide the gearbox max of 1250 Rpm),  pre-select feed change box.  Array of lubrication system status lights.
<![if !supportEmptyParas]> <![endif]>
Spindle Nose: The machine employs a modern milling spindle as well as the conventional boring spindle, nitride hardened and ground riding on a hardened bushing.  Bolt up flange for accessories.
<![if !supportEmptyParas]> <![endif]>
FOB Campbell River, BC.  Loaded on your truck.  Arrangements at reasonable costs plus expenses, could be made for reassembly in your plant and for starup recommissioning.
<![if !supportEmptyParas]> <![endif]>
The machine is currently under power, leveled and may be fully inspected and tested.  Originally purchased from Manasman Demag in West Germany in 1985, this Collet was installed in Campbell River in 1990.  New DC drives to the spindle were installed in 1991.  This machine has always been leveled to factory specifications and has seen little use or wear in the local service industry.   
<![if !supportEmptyParas]> <![endif]>
Accessories Included with an Individual purchase: 24" air ride rotary table c/w 3' platten, Universal milling head attachment 28" reach (Kerney Treaker), 2 pc's HDAngle Plates, 24 pc's bars and tooling, Fixatorn leveling jacks (approx. 32 pc's).
<![if !supportEmptyParas]> <![endif]>
<![if !supportEmptyParas]> <![endif]>
<![if !vml]>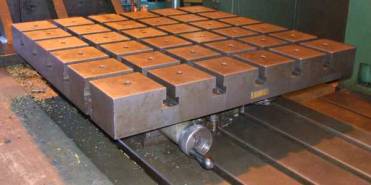 <![endif]>
<![if !vml]>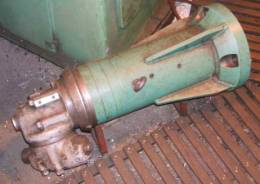 <![endif]>
<![if !supportEmptyParas]> <![endif]>
Boring mill for sale , boring mill Canada , used boring mill , planner style mill for sale , Collet for sale , 5" boring mill , boring mill accessories , inspect under power ,
<![if !supportEmptyParas]> <![endif]>
<![if !supportEmptyParas]> <![endif]>
<![if !supportEmptyParas]> <![endif]>